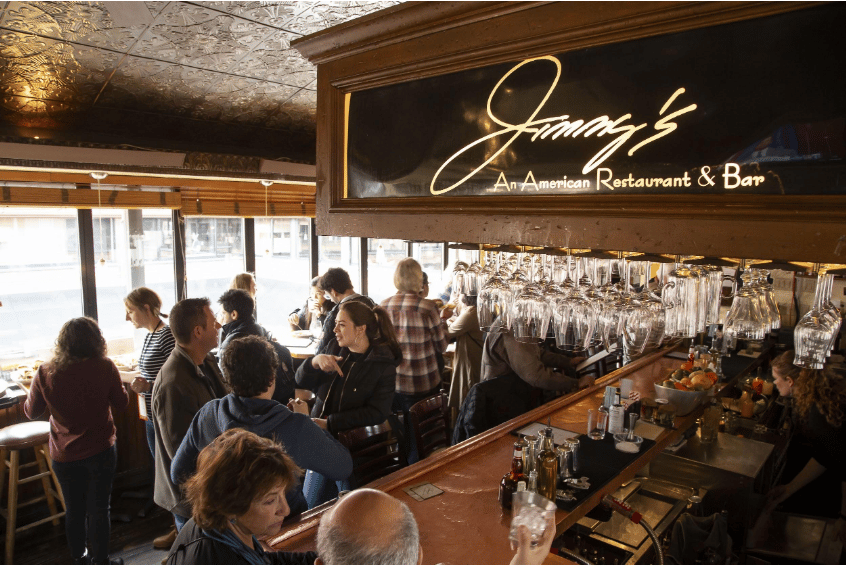 Our Team
Click Each Name To Learn More
Jimmy Yeager / Owner & Proprietor
Jimmy opened Jimmy's An American Restaurant & Bar in the summer of 1997 after spending more than 20 years in the hospitality industry as a chef, waiter, bartender and general manager. Jimmy's passion for food and spirits has been present in all aspects of his life, beginning as early as high school and college, when he began to work extensively in restaurants. 

The Jimmy's bar program has been nationally recognized as one of the best in the country, largely due to the experience of Yeager. His expertise in agave-based spirits has been recognized by industry leaders, including his founding involvement with Del Maguey mezcal. Yeager has been featured in numerous books on bartending, mezcal and spirits education, served as a consultant to other bars and restaurants, a judge and reviewer of industry competitions, and is known around the country as an expert in hospitality.
Jessica Lischka / General Manager & Business Partner
Jessica is an experienced hospitality professional who has traveled the world to learn about wine and spirits. Jimmy's was one of five recipients of the first Sustainable Spirit award by Tales of the Cocktail in 2016, as a result of a project spearheaded by Jessica to make the 20-year old establishment more environmentally friendly. 

Jessica has passed the Court of Master Sommeliers Introductory exam, Barsmarts Advanced course, and is a Certified Sake Professional. She has visited wineries and distilleries in Mexico, France, Italy, Spain, Portugal, Scotland, Ireland, Japan, and Taiwan. She graduated with a degree in strategic communication and environmental studies from the University of Wisconsin in 2006.
Greg Van Wagner / Wine & Beverage Director
Greg began his career at the award-winning Frasca Food and Wine restaurant in Boulder, CO. Being a semi-pro road biker and an avid backcountry skier, Greg has always had an affinity for mountain life and in 2011, he set his eyes on Aspen as a place to call home. He spent the next couple of years serving as Maitre d' of Element 47 at The Little Nell, a five-star, a five-diamond resort nestled slope-side on Aspen's illustrious Ajax Mountain. The opportunity to work alongside multiple Master Sommeliers and a grand-award wine list deepened Greg's passion for wine. He joined the Jimmy's family in 2014, and his Global Wine Diagram will be launched in 2019 in partnership with the Somm Foundation.